Chess Openings II

Surprize Weapons
In your chess games it is sometimes useful to play a different opening to avoid running into your opponents home-prepared opening lines.

Your opponent knows you and what chess opening you usually play and will prepare an opening line against you to beat you. Below I will show you some interesting opening systems to surprize your opponent yourself.
Surprise Weapons for White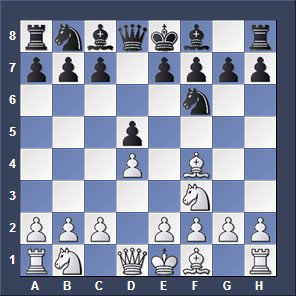 London System Bf4
Play the above Opening Chess Moves with White to upset your Opponent. This will confront him with new opening lines that he probably doesn't know and will make his home preparations useless. But use the Evans Gambit and the Kings Gambit just as a surprise weapon, because these Opening Systems are very aggressive and should be studied well before you apply them.
For Black
If you have the black pieces and your opponent plays first move e4, try to set up the Italian position as Black. This means that your black bishop should be on c5 (attacking f2) and your knights are placed on the natural squares c6 and f6.
This is a good and solid setup for Black. If White plays the Scotch, then you still can play Bc5 later on in some variations. Make sure you get your pieces out fast to be able to castle on time.
Surprise Weapons for Black
CONTINUE to - Chess Openings III
BACK to - Chess Openings I