Get GM Igor Smirnovs UNIQUE Chess Video Courses
"Become a strong Chess Player as quickly and efficiently as possible!"
These COMPLETE Chess Courses make your chess training two or even three times more effective? Opening, middlegame, or endgame – whatever phase or aspect of the Royal Game you want to master, his high quality chess courses will give you that DRAMATIC boost you are looking for!
These high power Video Chess Courses of condensed Chess Knowledge will quickly turn a weak Player into an Expert!
Grandmaster Igor Smirnovs Chess Teaching Videos are organized like a Chess Academy and will teach you all you need to know in the shortest time possible. His team members work for several months on one chess course. For that reason, the chess courses are at a VERY high level.
Why are Igor's Chess Courses so effective?
1. These courses are very well prepared.
2. They have a theoretical part.
3. They have a practical part.
4. You get a Money-Back Guarantee.
5. They have a very good description page, so the audience knows exactly what they are buying.
6. You save thousands of dollars on chess lessons that you would pay to a private chess teacher.
7. EXCELLENT TESTIMONIALS
The following list of chess courses are the result of years of hard work. I recommend, that you get the packages below, because you get a discount this way.
Get the Packages and save!
I also recommend the new video course


Unlocking Grandmaster Mind
because comparing this course with previous courses, the price is lower. This means that students can buy it more easily and save money.
I should mention that the quality of this course is very high, as with all other products.
If you are a beginner, start with this course below!
Reviews about "The Grandmaster's Secrets"
Get It Now - Click here!
I suggest that you first study the courses GM's Secrets or Positional Understanding. It is better to have a solid knowledge of chess and, after that, study the opening courses.

Bogo-indian defense
New Chess Courses
7 Keys to Victory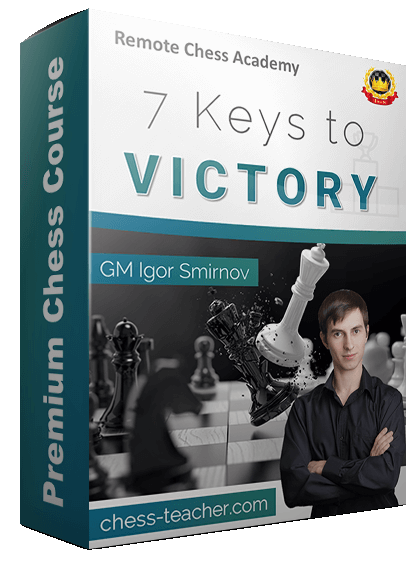 7 Keys to Victory
Asaf Givon collection
This new collection, with all of IM Givon's courses, can help you to become a much better player.
Asaf Givon collection
Magnus Carlsen: The Journey of a World Champion
"I'm very happy to inform you that our new course
"Magnus Carlsen: The Journey of a World Champion"
is released.
Magnus Carlsen: The Journey of a World Champion
Learn from a great player, this helps a lot. Magnus Carlsen (world chess champion) is a great positional chess player who plays very safe and seldom makes a mistake. He often wins even positions due to his excellent technical skills.
The author of this course is our guest coach IM David Miedema, who is also the favourite RCA guest coach for most of you. Many students (you) really liked his video lessons and asked for more lessons and even a course from him." - GM Igor Smirnov
Play like Fischer!
Play like Fischer!

Master Sicilian Pawn structures

Read more about this chess course...
Additional Resources are SUPERCHARGE YOUR CHESS! from TheChessWorld.
Chess Courses TESTIMONIALS
Chess Courses Testimonials
"GM Igor Smirnov has developed an effective system of chess improvement. If you follow his advice, you will become a stronger player. To back up my claim, I have evidence that following Igor's system will get you good results.
Recently, I won a qualification tournament for a GM round robin (first in my life) with GM norm chances! I am really happy!"
Keith Mac Kinnon, Canada
---------------------------
Thanks, Igor Smirnov
I got you video chess course "The Grandmaster's Secrets" and liked it a look. The video / text says a lot of things that will make my study of chess different. Simples instructions but I am sure that will make the difference at my chess studies
I listen / read it twice and I will read it more times because I need make that instructions my basic skills so, I will improve my chess.
regards,
Antonio Mendonca
from Brazil