Samuel Reshevsky learned chess when he was 4 years old. He became known as a child chess prodigy and was playing simultaneous games of chess against adults when he was 6 years of age.
At age 8 he was playing chess against strong players. In 1920 his family moved to the US and made a living using Sammy's abilities to play against many chess players simultaneously.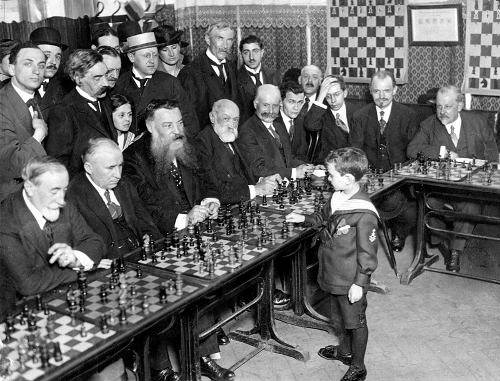 Samuel (Sammy) was born November 26, 1911 in Ozorków near Lodz (Poland) and died April 4, 1992 in New York, USA. He became a leading American chess grandmaster later on and was a contender for the World Championship. But he never played chess on a professional basis when he was grown up, but took time off from chess, studied and graduated 1934 from the University of Chicago holding a degree in accounting.
From 1935 onwards he again participated in international tournaments. He won a tournament in Margate in which he has beaten the chess genius José Raúl Capablanca.
In the tournament in Nottingham 1936 he came 3.- 5. together with Euwe and Fine. In the same year he became Champion of the USA and won the US Championship in the years 1938, 1940 und 1946.
In 1937 he won a tournament in Kemeri together with Flohr and Petrovs and he came 3.- 4. in the tournament in Semmering/Baden.

In 1937/38 Sammy won the tournament in Hastings.
In 1939 he came second in the tournament in Leningrad/Moskau.
He got married 1941 and worked as an accountant to support his wife and two children.
In 1948 he came equal third in the World Chess Championship tournament and 1953 equal second in the Candidates Tournament.
Replay Chess Games
Flip Board: Press F-Key (or click e7 or d2 on top) Select a game: Click on grey bar

Back to – Chess Grandmasters
Return from – Chess Prodigy to – Chess Strategies – Home

Get Chess Sets and Chess Computers!