Looking for a chess tutor? Grandmaster Igor Smirnov from Ukraine has developed various excellent chess teaching video courses.
Read Testimonials about GM Igor Smirnov's Course "Your Winning Plan"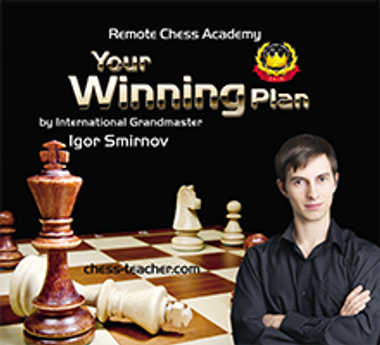 Click Image!
"…you get clear practical recommendations to help channel your thoughts …"
Werner Poets, Belgium,
Owner of the chess course
"Your Winning Plan".
The course
"YOUR WINNING PLAN" GM Smirnov has delivered again a product of high quality. The videos give you a clear visual explanation is supported by key phrases and diagrams and of course discussed the key concepts illustrated by reference to relevant games fragments. Also there is an full transcript of the lessons so you can easily make a summery adapted to your needs.
Planning is the most important thing in chess. It is also the hardest part of the royal game. The middle game is the most complex stage of a chess game. The number of possibilities is enormous. A consistent continuation is only possible with good planning. Planning is the cement that makes the bricks (your moves) solid as a whole.
In the course
"YOUR WINNING PLAN" is not a concatenation of vague generalities or in-depth analysis of positions with endless variations as in many books. In this courses you get clear practical recommendations to help channel your thoughts in each position. It is an systematical approach that guides your thinking process. There is not only attention for pure technical aspects but also for psychological skills. For practice this planning skills there a lot of relevant and varied tasks.
Before I had studied the course "YOUR WINNING PLAN" I was not sure in complicated positions when and where I would advance my pawns. Now I know exactly what to do. The 18th century chess master Philidor once say "The pawns are the soul of chess". Thanks the concrete recommendations of the course "YOUR WINNING PLAN" I can give my pawns a soul in my games.
The courses of GM Smirnov are of a high level. Yet your skill level must not very high at this time to understand all because ever ting is very clearly explained. So you need not fear that some things you can not follow because things are not explained because they are "trivial". So do not be intimidated by the fact that Igor Smirnov is a grandmaster. Besides a good chess player Igor Smirnov also a very good teacher.
With the third course
"YOUR WINNING PLAN" the Remote Chess Academy of GM Smirnov is getting shape.
Werner Poets, Belgium
Get the Main Package by Grandmaster Smirnov (UKR).

Get Top Chess Sets and Computers!

Get High Quality Chess Courses created by Grandmaster Smirnov!
"Give me 21 Days and I'll Show You How to Become a Dramatically Better Chess Player...Guaranteed! - Click Here!"