Chess Grandmaster Nguyen Ngoc Truong Son was born in Kien Giang Province, Vietnam in February 23, 1990. He learned chess at the age of 3 and became world champion in category U10 in 2000.
In 2001 he won the Asia U12 Chess Championship and became 2002 an International Master and received 2004 the title of International Grandmaster just aged 14.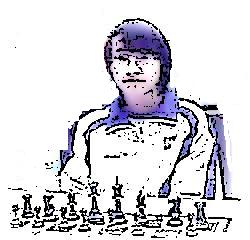 He became -Athlete of the Year- in Vietnam in 2004. This was the only time when a chessplayer was included in the list of the top 10 athletes of the country.
He was the youngest grandmaster in Vietnam and one of the youngest grandmasters worldwide in history.
His FIDE Rating is 2567 ELO (in December 2008) and he is ranked number 1 in Vietnam.
Flip Board: Press F-Key (or click e7 or d2 on top) Select a game: Click on grey bar

Back to – Chess Grandmasters
Go from – Nguyen Ngoc Truong Son – to Chess Strategies – Home
You get a HUGE Discount on High Quality Chess Courses from Grandmaster Smirnov! Click Here!

Get Chess Sets and Chess Computers!