I have collected over 540 000 tournament chess games (pgn downloads) from five years for you (till June 2016) and I show you how to build your personal chess database using a free database software program called "SCID vs PC" (free). Read more about "SCID vs PC"
Shane's Chess Information Database (SCID) was originally written by Shane Hudson, but has received strong contribution from others.
With "SCID vs PC" you can create huge chess databases without having to buy expensive chess database software.
You can also run chess engines and play games against the computer. However in the beginning SCID seems to be complicated to use it, so I will explain some important features that you must know to be able to build your database.
I have to charge you $35 for the pgn downloads, because it has been a lot of work to build the pgn file (expertchess.zip) with over 540 000 chess games, as you can surely imagine.
If download link does not work then please send me an email and I send you the download link.
You can use my pgn chess database with "SCID vs PC" and build your personal chess database with it. This means you just extend this pgn database over time and add more games to it.
How to use Modern Chess Database?
To open the pgn file Modern Database to see the chess games in it, you need a chess database like "SCID vs PC" (free, see this page below), or, for example, ChessBase Mega Package or as alternative the Russian database Chess Assistant PRO with Houdini PRO (DVD) or the interface of a commercially available chess program like Fritz Chess Software that has a chess database included to which you can add my Modern Database.
Install Chess Database
Make sure you download the right version. If you have a Windows 64 bit PC, then download the 64 bit version.
SCID vs PC creates an icon on your desktop. See below.
Find, open and install SCID on your computer. It will create an icon on your PC as shown below.
Create NEW Database Name
You have to start from scratch and create a new database. Click on FILE/NEW and give your database a name that you like. (example: ModernDatabase) See image below.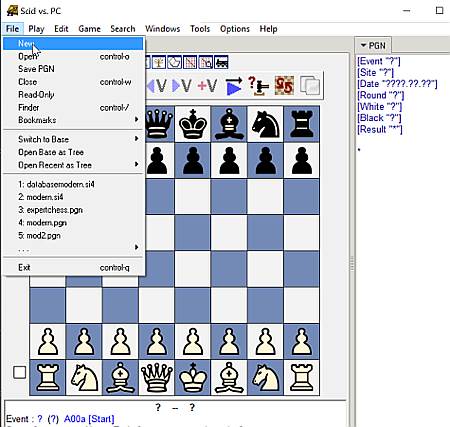 You need this new database to import (copy) your pgn games into it later on. If you would simply open any pgn file instead that contains chess games then you will not be able to delete or edit any games because your pgn files are classified read-only and cannot be changed.
This means that you will not be able to change anything in the pgn files you have, but only in the database.
For that reason you have to first create a new database that has three different file endings, to be able to handle complex editing procedures and it does not have the file ending pgn.
This newly created database structure is necessary to be able to edit or delete any games in the future and import new pgn games into it from other pgn files.
So your newly created database will have no games in it in the very beginning.
Open any of your created Databases
You can create different databases. For example, you might create a database where you will import only old chess games played by old chess masters and call it, OldBase.
To open any chess database click on FILE/OPEN. See below.
Copy PGN Games into your Chess Database
To fill your database with chess games go to TOOLS/IMPORT PGN FILES. Then find your PGN files on your computer and import (load) them into your database. See image below.
Loading PGN Files
When PGN files are loaded in the database then you will see this small window below which shows the loading procedure.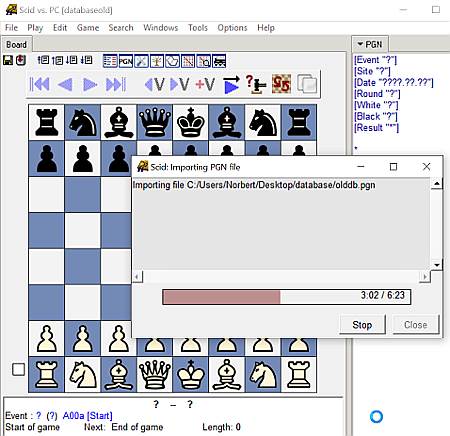 When all games of the PGN File are loaded, then this window will show the games that have technical errors in it. See image below.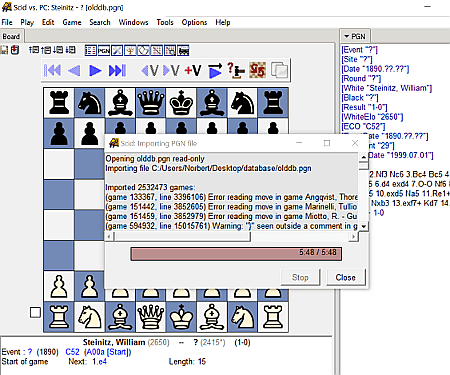 You should find and delete or repair these games in your chess database (not in PGN File as this is read-only).
Just lookup the number of a game that has errors in it, then find the number of this game in the database and rightclick mouse and click delete.
This will NOT delete the game immediately, but simply will mark (flag) it. After this, click on COMPACT. This will fix those "deleted" games in the database for later deletion in the MAINTENANCE Window.
As you can see above there are some games that have errors and should be deleted or repaired.
List of Games
To see your listed games in your chess database OR in your PGN files click on LIST OF GAMES. Before you do this you have to go to FILE/OPEN and open up a database or a PGN file. See image below.
How to Search for Positions
Go from – Chess Database – to – Chess Strategy – Home

Get Chess Sets and Chess Computers!