Below you can replay all chess matches from official world chess champions in the history of chess from the past to the present.
Wilhelm Steinitz
He was an Austrian-American chess player who lived in London and the first official world chess champion from 1886 until 1894. He lost his title to the German mathematician Emanuel Lasker.
Steinitz criticised the attacking style that was popular at his time and developed new strategic-positional ideas that revolutionized the playing style and enriched the chess theory.
Steinitz won chess matches against various opponents:
1866 : Steinitz – Adolf Anderssen 8:6 (no game was drawn)
1866 : Steinitz – Henri Edward Bird 9.5:7.5
1870 : Steinitz – Blackburne 5.5:0.5
1872 : Steinitz – Zukertort 9:3
Steinitz (world champion 1886 – 1894) was the first official
world champion, because he won a match against Zukertort that was
declared as a world chess championship.
Wilhelm Steinitz (USA) successfully defended his world title
versus Mikhail Chigorin (Russian Empire) 1889 in Havana, reaching
first 10½. He won the match 10½-6½.
The chess professional Gunsberg (Austria-Ungary) who was one of the best players worldwide in the late 1880s challenged Steinitz for the world title. Steinitz won the match with six wins, four losses, and nine draws.
Again Wilhelm Steinitz (USA) successfully defended his world title versus Mikhail Chigorin (Russian Empire) 1892 in Havana.
Results: 12.5 – 10.5.
Emanuel Lasker
Emanuel Lasker was the only German world chess champion. He held this title for 27 years from 1894-1921. He lived in London and New York and became a chess professional but he continued and finished his studies of mathematics at the universities Heidelberg and Berlin in Germany 1899.
His Chess Matches
1891 : Lasker – Blackburne 8:2
1894 : Lasker – Steinitz 12:7 (Lasker becomes world chess champion)
1896 : Lasker – Steinitz 12.5:4.5
(Rematch)
1907 : Lasker – Marshall 11.5:3.5 (+8-0=7)
1908 : Lasker – Tarrasch 10.5:5.5 (+8-3=5)
1909 : Lasker – Janowski 8:2 (+7=2-1)
1910 : Lasker – Schlechter 5:5 (+1-1=8)
1910 : Lasker – Janowski 9.5:1.5(+8-0=3)
Emanuel Lasker was a German mathematician and philosopher. He was an excellent positional chess player and became World Chess Champion for 27 years. He sometimes made "psychological" moves to upset his opponent.
For him, chess was a mental struggle over the board similar to the struggle for life and he believed, that it was necessary to apply common sense in selecting good moves.
He recommended to put the knights to the natural squares f3 and c3 as White and to f6 and c6 as Black and to put the kingside bishop to c4 as White or c5 as Black.
Lasker challenged Wilhelm Steinitz to play a chess match for the title and finally 1894 the match was played in New York, Philadelphia, and Montreal and Lasker won convincingly with ten wins, five losses and four draws.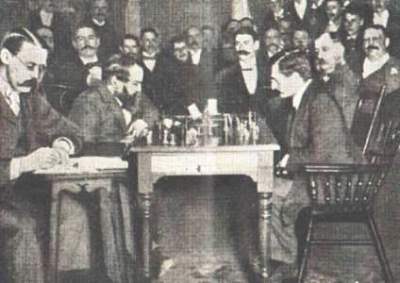 Steinitz (left) – Lasker (right)
At this time Steinitz was 58 years old and Lasker just 25 years of age.
Steinitz wanted a rematch and 1896/1897 Lasker played a second match with him for the title in Moskow. But the 60 years old Steinitz had not enough energy to put up any resistance against the young world champion and so he lost 2:10 (five games ended in a draw).
Lasker defended his title against Frank Marshall winning the match 11,5:3,5 (+8, −0, =7) without losing a single game.

Frank Marshall
Lasker defended his title against Siegbert Tarrasch who was a medical doctor and one of the strongest chess players and a well-known chess teacher, who won four major tournaments in succession: Breslau 1889, Manchester 1890, Dresden 1892, and Leipzig 1894.
Lasker beat Tarrasch convincingly +8-3=5
Carl Schlechter was an Austrian chess professional who started learning chess when he was 13 years old.
He was a fair and very strong positional player and many of his games ended in a draw. Lasker was lucky and won the last game of the match to equalize and to be able to keep the title.
The first four games ended in a draw but the fifth game won Schlechter. This was a sensation. The next four games were drawn again and Lasker had to play risky in the tenth game to go for a win. He finally won it and kept the title. (5:5; +1, −1, =8)
In this rematch Lasker defended his title against the Polish-French master David Janowski.
"Lasker plays such stupid chess, it confuses me"
Janowski didn't understand Laskers moves and Lasker won convincingly the match 9,5:1,5 (+8, −0, =3).
Jose Capablanca
Jose Capablanca, Cuba, was the third world chess champion and held the title from 1921 until 1927. He learned chess when he was four years old from his father.
When he was 12 he won a match against the national chanp Juan Corzo. (7:6)
1901 : Capablanca – Juan Corzo 7:6(+4-3=6)
1901 : Capablanca – Robert Raubitschek 2:0(+2-0=0)
1909 : Capablanca – Frank Marshall 15:8(+8-1=14)
1911 : Capablanca – Charles Jaffe 2.5:0.5(+2-0=1)
1918 : Capablanca – Boris Kostic 5:0(+5-0=0)
José Raúl Capablanca was a chess player and diplomat born in Havanna, Cuba in Nov. 1888. He studied Chemistry and Sports at the Columbia University in New York. He became the third official world chess champion in history and held the title from 1921 until 1927 after beating the German grandmaster Emanuel Lasker 9:5.
Because of his simple, economical and logical playing style he was called "the chess machine". He didn't lose many games, from the 578 games he has played in matches and tournamments he lost only 35.
"Every chess player should stop moves that can lead to a weakening of his position and should try to seize the initiative through surprizing attacks." – freely translated from the German book -Grundzüge der Schachstrategy- Walther de Gruyter&Co.
Alexander Alekhine
Alekhine was a tactical genius who could calculate long combinations accurately and he had great imagination. This enabled him to play amazing sacrifices and to discover tactical combinations in boring positions. He won the world title and beat Capablanca in a long match in Buenos Aires, that went on for over two months and lasted 34 games.
Max Euwe
Max Euwe was a Dutch mathematics teacher who worked also for the world chess federation. He became world champion for two years after beating Alekhine 1935 in the Netherlands, but he lost the title again to Alekhine in the rematch two years later.
Alekhine never had the chance to play another world championship match as he was found dead at the age of 53 on 24th march 1946 in Estoril/Portugal in his hotel room, sitting on a chair at the table on which the meal from the day before was still placed. An autopsy disclosed that he choked on a piece of meat.
Mikhail Botvinnik
He won the five-player world chess championship tournament in 1948 and became world champion after Alekhine left a gap as he died two years before in Portugal in exile.
Mikhail Botvinnik was a Russian grandmaster and a computer scientist. He was the first world champion who lost the title twice and regained it again in a rematch.
His parents were dentists in St. Petersburg/Russia. He learned chess fairly late, when he was 12 years old, but he improved fast.
Vasily Smyslov
The Russian grandmaster Vasily Smyslov was world champion for one year only. He has beaten Botvinnik 1957 but lost the title one year later because Botvinnik had the right for a rematch.
Mikhail Tal
Tal never cared much about his health. He drank and smoked a lot and was obsessed with chess.
He won six times the Soviet Championship.
His playing style was risky and very tactical. When he was young he produced the greatest chess games you can imagine, with unbelievable tactical sacrifices and outstanding far reaching
combinations. It could not be proven over the board if a sacrifice was correct or not. Often the opponent was unable to find the right move and lost.
Tal didn't want simplicity, he wanted complications. He dragged his opponents to the limit, into lines where intuition is required to understand what is going on. He had a psychological-combinative style and created unsure and unclear positions that couldn't be understood by the use of calculation only. In these unclear positions he produced powerful moves.
His thinking process was so fast that he never came into time trouble.
He qualified to challenge Botvinnik winning the Candidates Tournament in 1959, where he has beaten, among others, Bobby Fisher four times out of four games.
There is a saying about Tal which goes like this:
"Tal puts his pieces into the center and then he sacrifices them somewhere."
Tals chess games always excited me when I started learning chess. He made a lasting impression in my mind.
His mind was incredibly fast. In 1988, aged 52, he became world champion in lightning chess.
Tal became the eight world champion in the history of chess. He lost the title one year later back to Botvinnik in the rematch 8:13.
Tigran Petrosian
Tigran Petrosian (1929 – 1984) was an Armenian chess grandmaster who was world chess champion from 1963 until 1969.
He was born 1929 in Tiflis, Georgia (Soviet Union) and learned to play chess when he was 8 years old.
He was a chess player who gave great importance to safety. He cultivated a defensive playing style and he was trying to diminish the opponents counter chances first as far as possible before executing his own plans. He stayed away from wild tactics and dubious combinations. He was a so-called prophylactic player and used to strangulate his opponents slowly but surely. Because of his secure playing style he seldom lost a game and many of his games were drawn.
Petrosian was a defensive player who put safety first and seldom lost a game. Botvinnik was much older as well.
Boris Spassky
Another new talent appeared on the horizon. His name was Boris Spassky who qualified by winning the candidates tournament 1966. But Petrosian was lucky this time and could hold on to the title by winning the match very narrowly, being just one point ahead. (4 wins, 3 losses, 17 draws).
The talent Boris Spassky qualified again the second time and won the title in his second match with Petrosian in 1969 after having missed his chance to become world champion in 1966.
Bobby Fischer
Bobby Fischer (1943-2008) was born in Chicago, Illinois.
He learned chess when he was 6 years old, won the United States Championship eight times and became grandmaster when he was 15 years of age.
He was very eccentric and 29 years old when he challenged Spassky for the world title.
He qualified by winning the Candidates Matches with outstanding results:
Fischer versus Mark Taimanow – 6:0
Fischer versus Bent Larsen – 6:0
Fischer versus Tigran Petrosian – 6.5:2.5
Results like this never happened in chess history before.
The match against Spassky was played in Reykjavík,
Iceland and lasted 21 games. Fischer won the match 12½–8½ and
became world chess champion.
Fischer blundered away the first game as he lost a dead drawn endgame. He lost the second game as well because he didn't show up as he was annoyed about some TV cameras being to close.
After becoming world champion Fischer never played chess in tournaments again. He just played a rematch with Spassky in 1992 in Yugoslavia, Sveti Stefan/Belgrade, which was under the embargo of the United Nations. Fischer won the match 17.5-12.5
Anatoly Karpov
Anatoly Karpov was official world champion from 1975 to 1985 and from 1993 bis 1999 FIDE-World Champion. Fischer did not defend his title 1975, so Karpov was declared world chess champion 1975.
Viktor Korchnoi again qualified to challenge Karpov for the world title. The match was played in Meran. Winner was who has won six games first, draws were not counted.
The challenger was Garry Kasparov who won the Candidates Tournament 1983/84.
Winner of the match would be the first player who wins six games. Karpov was leading 4:0 after nine games, then 17 draws followed and Kasparov lost again. Now Karpov was leading 5:0 then another four draws followed and Kasparov won his first-ever game against Karpov. Then 14 draws followed and Kasparov won twice in a row, game 47 and game 48, result now 5:3.
The match was ended at this point without result by Florencio Campomanes, the president of FIDE, due to health reasons of the players, who were playing the longest match in chess history, lasting 5 months from September 10, 1984 to February 8, 1985. Karpov had lost weight and both players were strained but wanted to continue. But still a new match was scheduled for a few months later to be limited to 24 games only.
Garry Kasparov
After the first match was abandoned one year before a new match had to be played.
The match was restricted to 24 games. In the case that the match ended in a tie of 12:12 world champion Karpov would keep his title. If Karpov loses he had the right for a rematch. But this rule would be used now for the last time and later abandoned.
Kasparov played the first match in 1984 too risky and intended to play more positional, then waiting for his chance. His strong will power and self-confidence is impressive. This became apparent when he didn't give up the match after Karpov was leading 5:0 in 1984.
Garry Kasparov won the match 13:11 and became world chess champion at the age of 22.
Karpov had the right for a rematch. This match was restricted to 24 games. In case of a tie Kasparov would remain world champion. Kasparov won the match with one point ahead. (5 wins and 4 losses)
Karpov qualified by winning the Candidates Match and was 36 years old when playing against Kasparov (24 years) again. The match was limited to 24 games and held in Spain.
Anatoly Karpov was leading for one point and Kasparov needed a win in the last game to draw the match and retain the title. He played the Reti opening as White and finally managed to win the endgame and the match was drawn.
The result was a tie 12:12, so Garry Kasparov retained the title for another three years.
Garry Kasparov split from FIDE because he believed the FIDE was corrupt. He formed his own organisation called PCA under which this match was organized.
Vladimir Kramnik
Viswanathan Anand (India)
Magnus Carlsen
Go from – History of Chess to – Home

Get Chess Sets and Chess Computers!