Give me 21 Days and I'll Show You How to Become a Dramatically Better Chess Player...Guaranteed! - Click Here!
Play chess against computer vs different online chess programs here on this page. Some are javascript applets, but most are flash programs. However, you will have fun….unless you lose every game, of course.

If you are a beginner at chess you can improve quickly and efficiently with
chess courses for beginners
created by
chess grandmaster Igor Smirnov
, who developed a UNIQUE chess teaching system over the years which proved to be highly effective.
Play Chess against Computer
Learn Chess Openings here! and get some good Chess Books here!
Computer Chess Stockfish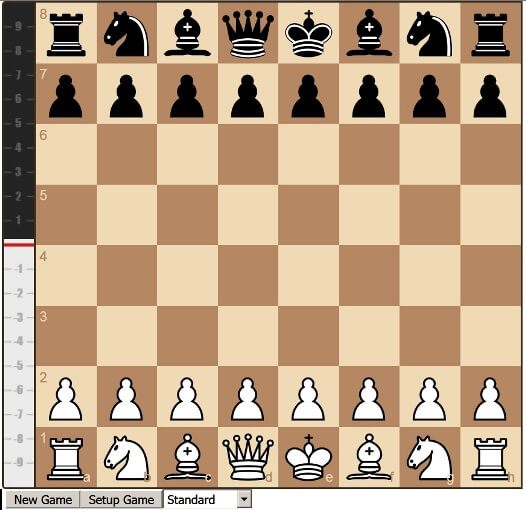 Play Chess against Stockfish – the best Chess Software on the Net.
This chess program will take you apart, slowly but surely. Don't cry when you lose. It is strong. On the left side of the board you see a bar which moves down when your position gets worse. If you want to play the Black side then select "HUMAN" on the top right side and "COMPUTER" on the top left side. Good Luck!
Play Chess vs Computer – Fritz Chess
Play Chess against Fritz Chess
If you lose a lot of games, don't despair, there is help coming on the horizon. Just study high power Chess Teaching Video Courses created by Chess Grandmaster Igor Smirnov.
Get an Electronic Chess Board
Read ANSWERS from QUESTIONS FOR BEGINNERS to understand Chess!
Join The Chess Forum!
You are easier to beat if you don't follow correct chess principles. Don't place chess pieces on dubious squares, don't push too many pawns which create weaknesses in the position. And learn opening theory, of course.
Have you been ripped to pieces again? Well, not to worry! There is always a weaker player than you. Take your time, you will improve eventually… only God knows how long it will take.
Strong Javascript Chess Program
Try this beautiful Javascript Chess Program!
Training Positions
Play Training Positions!
ASK CHESS QUESTIONS HERE!

Get Top Chess Sets and Computers!

Get High Quality Chess Courses created by Grandmaster Smirnov!