You can get various Computer Chess Software to get better at Chess.
Fritz
The most popular computer chess program is this German PC program. I am sure, that every chess grandmaster on this planet uses it…
Get Fritz here!
Rybka
This Russian PC chess program below is known for its outstanding playing strength and has won many computer chess tournaments.
Get Rybka here!
Shredder
Another top world champion program is Shredder. This PC Program has gained many computer world championship titles in recent years.
Get Shredder
Hiarcs
The Computer Chess PC Program Hiarcs is a strong chess program known for its human-like playing style. It was programmed by the English Mark Uniacke who released the first version of the program in 1980.
Hiarcs has won World Championships in the past and is renowned for its high quality, world class chess strength and has been among the very best chess programs in the world for nearly 20 years.
Hiarcs has won its first World Championship in 1991. In December 2007 the program gained in reputation by winning the International Paderborn Computer Chess Championship in Germany ahead of a world class field.
Use it as an analysis partner as it has the ability to learn from the positions it analyses and plays. Remarkable is its deep positional understanding of chess positions.
The combination of strength, playing style and learning makes Hiarcs an ideal intelligent chess partner for your training.
Get Hiarcs
Chess Databases
The database Chessbase is used by many chess players and grandmasters worldwide.
Get Chessbase here!
OR get alternatively the downloadable and excellent Russian product Chess Assistant to study and analyze chess variations and chess openings.
Get Chess Assistant here!
Chess Tutor
First you learn the elementary knowledge which every successful chess player needs. Step 1 contains 23 lessons, 1800 exercises and 66 games.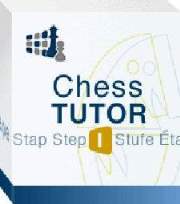 Click on Image

Click on Image
The Chess Tutor is suitable for children from 8 years and all adults and you get it at a very reasonable price.
Go from – Computer Chess Software – to – Electronic Chess Computer

Get Chess Sets and Chess Computers!