To play chess efficiently you need to play strong chess opening moves. This is only possible if you study a lot of chess openings to learn how to make proper moves right from the start.
For Beginners and Advanced Chess players who have not much time and need an opening repertoire that covers up almost everything as fast as possible, go to learn chess openings fast and learn just a few selected systems.
You are probably interested in Chess Opening Video Courses created by Grandmaster Igor Smirnov (Ukraine), who has developed a UNIQUE Chess Teaching System over the years.
You are Black and White plays 1.d4
If you have the black pieces and White plays first move not 1.e4, but 1.d4, then you can play the following chess openings as Black.
The Queens Gambit
The main variation is:
1.d2-d4 d7-d5 2.c2-c4
see Overview

White puts pressure on the center immediately.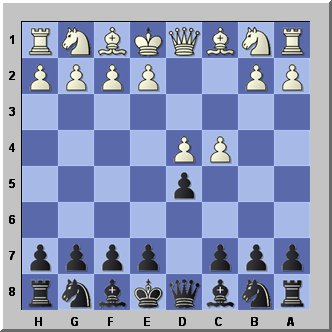 After that it branches out into the following chess opening moves:
2…. e7-e6 (Queens Gambit Declined)
2…. c7-c6 (Slav Defense)
2…. d5xc4 (Queens Gambit Accepted)
2…. Sb8-c6 (Chigorin Defense)
Those opening moves are considered as independent opening systems. I recommend to you to study the above Opening Chess Moves of the Queens Gambit, except the Chigorin Defense, which is dubious, but can be applied as a surprise weapon.
Don't bother to learn the following chess variations. They don't appear to be good chess openings, are seldom played and are played only on lower levels of chess.
Seldom occuring:
2…. e7-e5 (Albins Countergambit)
2…. c7-c5 (Symmetrical Variation)
2…. Sg8-f6 (Marshall Defense)
2…. Lc8-f5 (Baltic Defense)
2…. g6 (Alekhine Variation)
Keep in mind that the move order of opening chess moves can change in practical games.
Other solid Chess Opening Moves
Learn first the Opening Chess Moves of the Queens Gambit above. After that you can study the Queens-Indian, the Gruenfeld-Indian, the Benoni-Defense, the English-Opening (as Black) and the Colle-System (as Black).
Complex Chess Openings
The following chess opening moves should be learned last. The Nimzo-Indian Defense and the Kings-Indian Defense are too complex and difficult for you to get started! They require good positional understanding and chess experience.
But keep in mind that the Nimzo-Indian is Black's most successful opening along with the Sicilian Defense!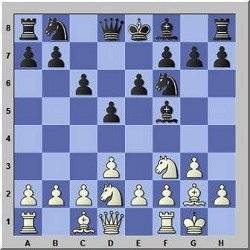 Kings Indian Attack
Top Chess Books – Buy only Quality
Get the best chess books. For Beginners I recommend Logical Chess – Move by Move by Chernev because every move is explained here.
Another good book for beginners that received very good reviews is the Complete Idiot's Guide to Chess.
Surprise Weapons for Black against 1.d4
Here you get some surprise weapons, the Dutch, the Budapest Gambit and the Benko-Gambit.
Upon which Chess Opening Moves (Opening Systems) should I choose to specialize on?
I will tell you now my personal opinion based on statistics and cold facts.
In the first years of learning chess, it depends how much you play, you should play only 1.e4 with White to create sharp tactical games to learn how to handle tactical positions. With Black play 1…e5 or 1…c5 (Sicilian) for the same reason. After you have played that way for a few years, you should switch over to 1.d4 openings and play chess on a more positional basis.
Reasons to play 1.d4
1. The move 1.d4 is statistically slightly more successful than 1.e4. This is due to the fact that Black scores well with the Sicilian defense which decreases the winning potential of 1.e4 in comparison to 1.d4. After you have learned tactical play with e4 for sometime, you should switch to 1.d4 later on.
2. After 1.d4 d5 2.c4 White pressures the center and Black has a somewhat passive game with almost no counter play and finds it difficult to get somewhere with low winning chances. The tactical risks for White are lower compared to 1.e4 as less often sharp tactical positions arise. White has a slight but enduring positional edge and might convert it into a win with low risks and without running into immense tactical complicated variations where winning or losing just hangs on one tempo.
If you compare this to 1.e4 e5 then you see that the situation is different. Here Black has always some sort of a counter chance as long as he puts his pieces on active squares like in the Italian Opening, Spanish or the Sicilian.
Particularly the Sicilian proves this point. The game is very sharp and Black has sufficient counter chances. This is the reason why the chess opening moves of the Sicilian are so successful for Black.(except the Dragon Variation)
3. You are getting older and later on when you pass the age of 40, or maybe earlier, you don't like to play sharp tactical chess anymore as this can be quite stressful. You will enjoy strategical play more than tactical play.
I observed this trend watching mature players who played chess over thirty years. They tend to play positional chess and like to win using strategical elements of play. In this area they have more experience and more knowledge than young players and this increases their chances to win. And they don't like the stress which is involved when you play highly tactical games where every move counts and everything hangs on one tempi.
All those reasons tell me that your first move later on should be 1.d4 and that you should study all relevant chess openings (answers to 1.d4) of Black, to be able to know the right plans.
Unusual Chess Openings for Advanced Players
The Six-Pawns-Attack
This is one of the most unusual chess openings! Try this rarely played opening system versus the King's Indian Defense or Benoni Defense. Be a man with courage and play the Six-Pawns-Attack in a serious game!
The Four-Pawns-Attack
This is another more popular weapon against the King's Indian Defense.
The Marshall-Attack.
A sharp active defense for Black. Try the Marshall-Attack against somebody who plays the Ruy Lopez (Spanish opening) to upset him. You sacrifice a pawn and will get active attacking play for that. This opening has been played in world championships and is sound. The Marshall Attack can make White cry…
The Anti-Marshall.
Hey! Don't be scared I hold your hand! These variations are for whimpish White players who fear the Marshall Attack. They just play the Anti-Marshall!
For the Positional Player (d4-Player)
Study the Queens Gambit Declined / Exchange Variation.
For Black playing against d4.
Study the Queens Gambit Declined / Meran Variation. This opening has been played twice in the world championship 2008 by Anand with success.
For the Aggressive Player (e4-Player)
Study the chess opening moves of the Evans Gambit.
______________________________________________________
Make sure to select good chess openings and get Chess Books or DVD's that explain the plans and chess ideas of the opening systems you have chosen for yourself. Become a specialist for the openings you want to play in the future.
BACK to – Chess Openings I
BACK to – Chess Openings II
Go to – How to play Chess – Home

Get Chess Sets and Chess Computers!