Free Chess Download

Free Chess Programs for you to play at Home
Here you get a free chess download ( Chess Games download free ) of chess software which you can use at home on your computer to play.

Just install the program on your PC and get some training. Play a lot of games at home to learn how to move your pieces properly.
Free Chess Download - Software - NagaSkaki

Download this open source freeware chess program called NagaSkaki
When you have downloaded it, just extract it (unzip it) to the directory called: programs. When you do this, it will create a folder named NagaShaki_512. That's where you will find it.
I promise you something. This program will not humiliate and frustrate you because you can choose different player personalities. Some play weak and others play strong. This makes playing quite interesting for you.
Adjust the pieces and the board first. I suggest you go into the menue and chose BOARD / NEWS PIECES and WOOD BOARD.
The different personalities including their ratings are:

| Name | Rating |
| --- | --- |
| NagaShaki | 2300 |
| Zara | 2297 |
| Pete Damn | 2126 |
| Joan | 2075 |
| Neo | 2069 |
| Raspoetin | 2051 |
| Clair | 1876 |
| Reckless Dave | 1825 |
| Dr.Felix | 1599 |
| Miss Molly | 1472 |
As you can see, Miss Molly is pretty weak. But she will still take you apart when you are a beginner. So watch it, she will get you in the end.
At the link below you can download some more chess programs for your PC to play at home.
Free Chess Game Download Have fun.
Tarrasch GUI Interface plus strong Programs for Windows
The Tarrasch GUI is a chess interface that includes various free chess programs (engines) for Windows. It comes with the best free chess engines that exist nowadays, including the very strong Stockfish engine and the free Houdini engine. (chess games download free)
These engines have grandmaster strength and know theoretically correct chess openings. You will not beat them. You get all you need in one free setup package. All you have to do is to download and install this package on your computer.
- You can play games against a selected chess engine, with a time handicap if desired.
- Setup a chess position and get it analyzed by the engine you have selected. Then play through the moves afterwards provided by the engine to study the position.
- You can create and edit.pgn files. Enter variations or enter and edit comments easily (just click anywhere and start typing).
Chess Interface Tarrasch GUI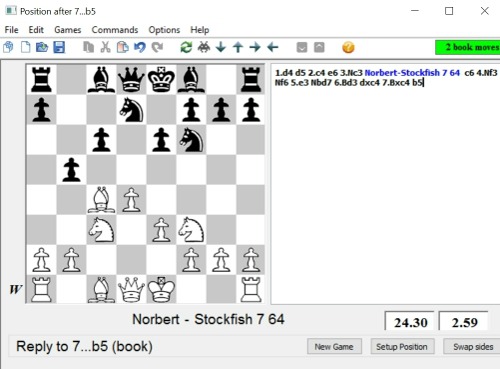 If you like to select another engine then click on OPTIONS/ENGINE then a window opens. See below.
Click on BROWSE and you can see the list of engines available. See below. You can find other engines on the internet and copy them into this list. To find the folder (engines) that includes the engines, go to System(C:)/Programs/Tarrasch/Engines. In this folder all engines are listed.
Download Tarrasch Chess GUI
Copyright Bill Forster, www.triplehappy.com
FreeChess Download
The PC chess program FreeChess is easy to use as it has no complicated options. However, the text is hard to read and it uses the complete screen of your computer. You are not able to resize it. The black pieces are somewhat difficult to see because the dark squares are too dark and this makes it hard to see the black pieces when they sit on dark squares.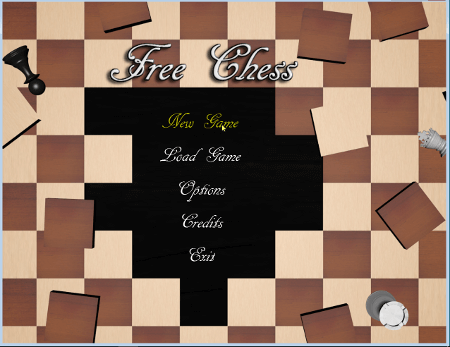 It has high-quality graphics and a 2D and a 3D view. To exit the running game click the ESC button of your PC.
Playing Levels are: Very Easy, Easy, Normal, Hard, Very Hard, Impossible
Start a Game
Click New Game then new Window shows. See below.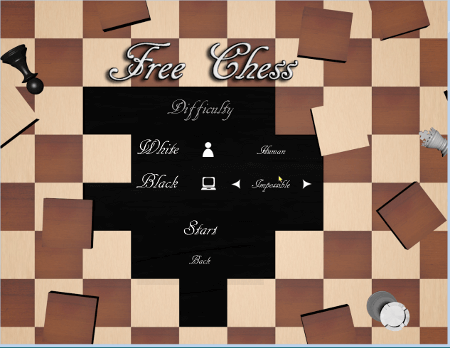 Playing WHITE
- Click on the
PC Image
on the right side of
White
until it shows a
Pawn image
and text changes to
HUMAN
.
- Click on right side of
BLACK
and select the
playing strength
: Very Easy, Easy, Normal, Hard, Very Hard or Impossible
- Click on
START
- Select
2D or 3D view
clicking on first chess board at the top right corner.
-
Turn chess board
by clicking on second chess board at upper right corner.
- To
take a move back
click on the
arrow
below the two chess boards at the upper right corner.
-
Leave Game
pressing
ESC button
on your Computer
Below you can download Freechess to your PC and install it. When installed it will place an icon on your desktop.
Download FreeChess here
American Chess Champion Paul Morphy - Exploits and Triumphs in Europe - Free Ebook PDF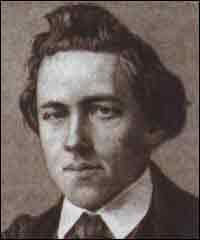 Download Paul Morphy.zip
Return from - Free Chess Download - to Chess Strategies - Home