Chess Opening Surprise for Black versus the d4 c4 Setup from White.
The Budapest Gambit (Budapest Defense) is almost never played among chess grandmasters. It is more or less a surprise weapon on lower levels of chess.
1.d4 Nf6 2.c4 e5

Black offers his e-pawn which he will regain later on.
It starts with the following moves:
1.d2-d4 Ng8-f6 2.c2-c4 e7-e5 3.d4xe5 Nf6-g4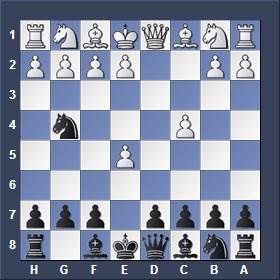 White can return the pawn and usually keeps a small advantage without risks. This opening can lead to sharp tactical games.
Main variations are:
4.Bc1-f4 Nb8-c6 5.Ng1-f3 Bf8-b4+ 6.Nb1-d2 Qd8-e7 7.e2-e3 (Karpow)
4.e2-e4 (Aljechin)
4.Bc1-f4 Nb8-c6 5.Ng1-f3 Bf8-b4+ 6.Nb1-c3 Qd8-e7 7.Qd1-d5 (protect the pawn)
4.Bc1-f4 Nb8-c6 5.Ng1-f3 Bf8-b4+ 6.Nb1-c3 BxNc3 7.bxc3 Qd8-e7 8.Qd5 f6 9.exf6 Nxf6 etc.
4.Ng1-f3 Bf8-c5 5.e2-e3 Nb8-c6
Play this opening to train your tactical abilities, but study the typical variations first.
Budapest-Gambit – Games
Flip Board: Press F-Key (or click e7 or d2 on top) Select a game: Click on grey bar

Back to – Chess Opening Moves
Go from – Budapest Gambit – to Chess Strategies – Home
You get a HUGE Discount NOW on UNIQUE Chess Courses from Grandmaster Smirnov! Click here!

Get Chess Sets and Chess Computers!