Veselin Topalov wins Candidates Match 2009 against Gata Kamsky 4,5 / 2,5 in Sofia 2009 (February)
This Chess Match between GM Veselin Topalov (BUL, Elo 2796, world-rank 1) and the steel-nerved GM Gata Kamsky (USA, Elo 2725, world-rank 17) has been played in Sofia/Bulgaria for a sum of $250,000. It is a home match for Topalov who is Bulgarian which has put additional psychological pressure on him. According to general opinion GM Veselin Topalov was the clear favorite to win the match.
He has now the right to challenge Vishwanathan Anand for the World Chess Championship 2009 title. The match will be in autumn.
Candidates Match 2009, Topalov wins 4,5 / 2,5 in Sofia
| Rounds | White | Black | Results | Opening |
| --- | --- | --- | --- | --- |
| 1 | Topalov Veselin | Kamsky Gata | 0,5/0,5 | |
| 2 | Kamsky Gata | Topalov Veselin | 0/1 | Ruy Lopez, Berlin Defense |
| 3 | Topalov Veselin | Kamsky Gata | 0,5/0,5 | Grünfeld defense |
| 4 | Kamsky Gata | Topalov Veselin | 1/0 | |
| 5 | Topalov Veselin | Kamsky Gata | 1/0 | |
| 6 | Kamsky Gata | Topalov Veselin | 0,5/0,5 | |
| 7 | Topalov Veselin | Kamsky Gata | 1/0 | French |
Topalov versus Kamsky / Highlights from Game 5
Gata Kamsky suffered a terrible loss in this game as he had a blackout and blundered away two pawns…See diagram
White moves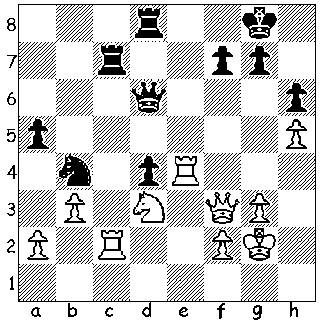 1.NxN axN 2.Rxd4 Qxd4 3.RxR
(Kamsky played 2…Qf8 see next position)
White moves


1.RxRd8 QxR 2.RxR QxR 3.Qa8+ Kh7
4.Qe4+ Kg8 5.Qxb wins a pawn
Topalov wins the last round – game 7
Topalov-Kamsky – Sofia 2009 – Games
Flip Board: Press F-Key (or click e7 or d2 on top) Select a game: Click on grey bar

Go to Chess Strategies – Home