Maxime Vachier-Lagrave was born on October 21st, 1990 in Nogent-sur-Marne and is a French chess master.
He achieved the title of International Chess Grandmaster in 2005, when he was 14 years of age and became one of the youngest chess grandmasters ever in history.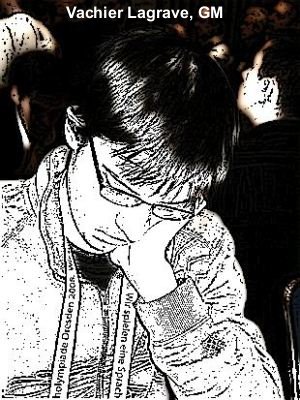 His norms were achieved in Paris Championship 2004 where he came 3rd with 6½/9 and a performance of 2703 ELO.
In NAO GM Tournament 2004 where Maxime won the tournament with 6.0/9 and showed a performance of 2605 ELO.
And in the GM Tournament of Evry 2005 where Maxime finished second with 7½ and a performance of 2712 ELO.
In 2007 he won the French Championship and August 2008 he won the VI. Marx György Memorial in Paks. In 2007 and 2008 he became the Champion of Paris. His actual ELO Rating is 2716 (December 2008) and is ranked number 1 in France and number 24 in the world. He is a super chess grandmaster as his rating is above 2700 ELO.
Flip Board: Press F-Key (or click e7 or d2 on top) Select a game: Click on grey bar


Get Chess Sets and Chess Computers!