The "Mechanical Turk" was exhibited in 1770 by various owners as a chess-playing robot for many years to come.
The machine was constructed by the Hungarian engineer and inventor Baron Wolfgang von Kempelen (1734–1804), but was an illusion as it allowed a human chess master hiding inside the machine and operating it and winning most of the games.
This way the mechanism appeared to be able to play a strong game of chess against any human opponent. The Turk gave demonstrations around Europe and America for nearly 84 years playing and defeating many statesmen such as Napoleon Bonaparte and Benjamin Franklin.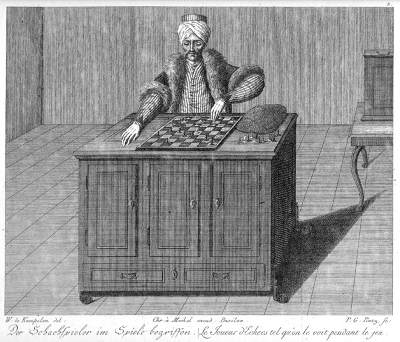 Design of the Turk
In 1820 the trick was revealed by Robert Willis from London.
Napoleon Bonaparte versus the Turk
Flip Board: Press F-Key (or click e7 or d2 on top) Select a game: Click on grey bar

Go from – The Mechanical Turk – to – Chess Champions
Go from – The Turk – to Chess Strategies – Home

Get Chess Sets and Chess Computers!