Outdoor Chess Sets, also called lawn chess sets, are great to meet new people and make friends. I have visited many outdoor chess places in parks all over the world when I travelled in foreign countries, like Australia and Europe. It is a great place to contact people and make new friends.
This image above shows my favorate outdoor chess set in Germany (in Frankfurt/Main Höchst). I have spent countless happy hours there since I was a child.
I have met nice people in chess parks to talk with and to play some nice games of chess. Chess players all over the world are like a big family. If you feel lonely, just go to a chess park and you will be right.
I searched the internet for you to find some nice giant chess
sets for you, if you like to have one in your backyard yourself. See below.

Get Your Giant Chess Set – Click here!
Outdoor Chess Set in your own Back Yard!
Join in on the fun and have a great time. You've seen large chess sets while traveling, on cruise ships, camping, malls, the park, hotels, sports centers, time shares and museums.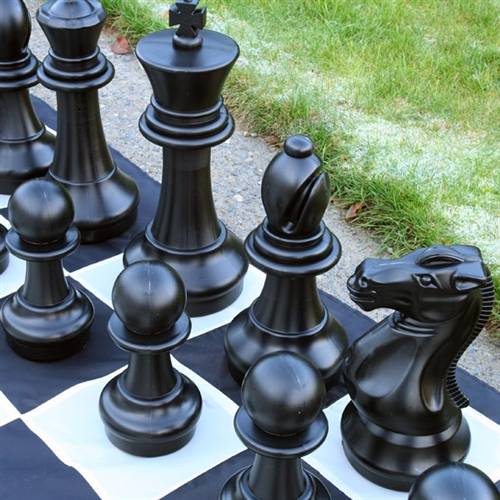 An Outdoor Chess Set gets the whole family involved at the backyard BBQ this summer! Lots of fun for everyone, especially for those of us who haven't mastered chess. Make it memorable with Giant Chess. Free UPS Ground Shipping to USA 48 states. Quickfold nylon chessboard available. Pieces can be weighted with sand or water in windy areas. Weather proof.

Get Chess Sets and Chess Computers!