Wilhelm Steinitz was born 14th May 1836 in Prag and was an important Austrian-American chessmaster from Böhmen and the first official world chess champion.
He revolutionized chess and critisized the aggressive attacking style (the so-called romantic style) that was played during his time.
He researched and played chess on a more scientifical level. Soon he formulated strategic-positional principles that were unknown in his time. This was the beginning of modern chess theorie.
His family was poor and some of his brothers and sisters died. Wilhelm suffered from a club foot and used a walking stick. As a child he was known as the best chess player in Prag.
In 1858 he moved to Vienna to study Mathematics at the Polytechnical Institute and financed his studies writing journalistical articles for austrian newspapers. Soon he realized that he could earn much more money playing chess in the coffeehouses in Vienna.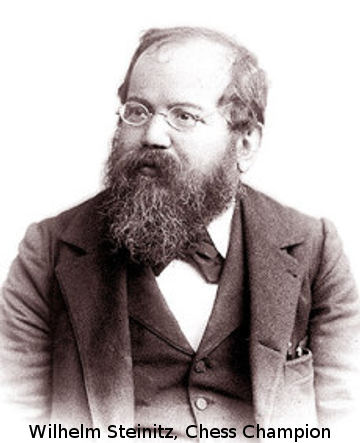 One day he played the wealthy banker Gustav Epstein, who complained that Steinitz thinks for too long until he makes a move. Steinitz said to him: "At the bourse you are Eppstein and I am Steinitz, but at the chessboard I am Epstein and you are Steinitz."
In 1862 he partizipated in his first international tournament in London and achieved 6th place. After that Steinitz moved to London because England was known as the center of the chess world. He made a living playing chess in the coffeehouses of London.
During this time he played and defeated various opponents:
Serafino Dubois 5,5:3,5
1863 won against Joseph Henry Blackburne 8:2,
has beaten Deacon 5,5:1,5
and Mongredien 7:0.
1864 won a match against Green 8:1.
After that he achieved first prize 1865 in the tournament in Dublin and first prize 1866 in a tournament in London.
In 1866 a match was organized in London between the inofficial german world chess champion Adolf Anderssen and Steinitz. After a hard fight (no game was drawn) Steinitz won the match 8:6. From then on Steinitz was considered to be the new world chess champion.
In the following years he has beaten various other opponents:
1866 he won a match against Henry Edward Bird 7,5:5,5

1870 he has beaten Blackburne 5,5:0,5
1872 he won against Johannes Zukertort 9:3.

In fact Steinitz won every match in those times but found it hard to win tournaments.
1867 in Paris came third place (behind Ignaz von Kolisch and Gustav Neumann)
1867 in Dundee came second (behind Neumann)
1870 in Baden-Baden came second (behind Anderssen).
1872 in London and 1873 in Vienna he won both tournaments
In 1876 Blackburne challenged him again. Steinitz has beaten him decisively 7:0.
Wilhelm Steinitz – his Chess Games
Flip Board: Press F-Key (or click e7 or d2 on top) Select a game: Click on grey bar

Back to – Chess Champions
Go from – Wilhelm Steinitz – to Chess Strategies – Home
You get a HUGE Discount NOW on UNIQUE Chess Courses from Grandmaster Smirnov! Click here!

Get Chess Sets and Chess Computers!