Antique Chess Sets are a delight for a chess friend or chess collector. You will find great sets on this page.
Beautifully carved antique chess pieces make a great gift idea. I am sure you will find a nice set for your home at this shop. Just click the links on this page.
The Egyptian Chess Set Pieces – SAC Antiqued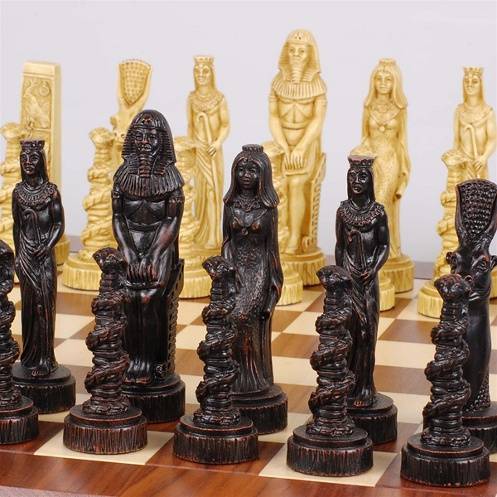 The king depicts an ancient Egyptian Pharaoh, while the queen, knights and bishops represent some of their sacred gods: Isis, Hathor and Amun.
Hieroglyphic carvings are used for the rooks and the Royal Cobras are pawns. The chess set pieces are made of an antiqued ground stone with the opposing side stained a rich burgundy brown.
Specifications:
Pieces only, board not included.
King height: 4 3/4″
Board recommendation: 1 3/4-2 1/8″ squares.
The House of Hauteville Antique Chess Set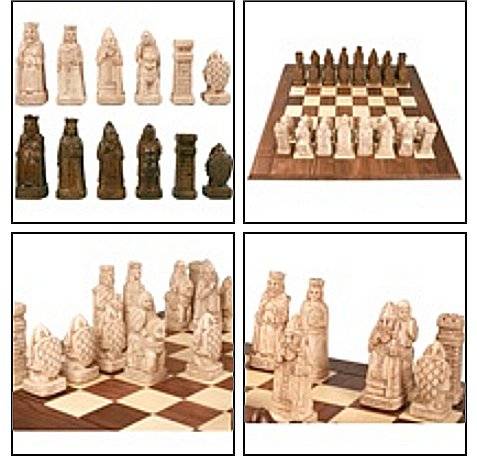 Find the ideal chess set at Chess House. Shop unique chess sets visually and buy with ease. In stock chess sets are safely packed and come with 6 month easy return guarantee. Join the Chess House family of smart shoppers!
The House of Hauteville Chess Set is an artist's dream come true. ChessHouse brings you artist Carolyn Cavanaugh's design, now produced in limited quantities right here in the USA. Her masterpiece is now available to chess collectors and artists. An initial production was donated to the Smithsonian's benefit auction and brought over $500.
The chess pieces are handcrafted entirely in the US. The pieces are substantial from 3 to 5 inches tall and are ideal with a chessboard of at least 2″ squares.
The House of Hauteville Chess Set was inspired by the adventurous Normans who invaded Italy in the Eleventh Century.
The King and Queen have been named after Robert and Sichelgaita, the Count of Apulia and his wife. To the King she gave a cat reminiscent of the quotation, "a cat may look upon a king…", to the Queen a hawk to emphasize her power, and to the Bishop a puzzled expression to reflect the ecclesiastical conflict of that time. The Knights are called Drogo and Tancred – names taken from the famous Norman Hauteville family.
Each piece was originally modeled in clay, then molded and reproduced in wax. The wax patterns were refined for better detail and final molds were made for reproduction. They are cast in stone resin.
These antique chess sets are designed for the enjoyment for the serious player and the collector.
Get Your Antique Chess Set – Click here!
__________________________________________
The Isle of Lewis Chess Set

Click above to see an amazing chess set found on the Isle of Lewis. This chess set has been replicated and sold worldwide.
Go from – Antique Chess Sets – to Wooden Chess Sets
You get a HUGE Discount NOW on UNIQUE Chess Courses from Grandmaster Smirnov! Click here!

Get Chess Sets and Chess Computers!