Get UNIQUE High Quality Chess Video Courses from Chess Teacher Grandmaster Igor Smirnov!
What, if you imagine, you can be really good at chess?
These powerful and UNIQUE Chess Teaching Videos were created by Chess Teacher Grandmaster Igor Smirnov (UKR) for you to improve your chess at all levels. The Chess Video Courses are explained here in more detail.
In my opinion these high quality and efficient chess courses will improve your playing strength quickly.
Read more about GM Igor Smirnov below and why these chess videos were created.
Chess Teacher Grandmaster Igor Smirnov (Ukraine)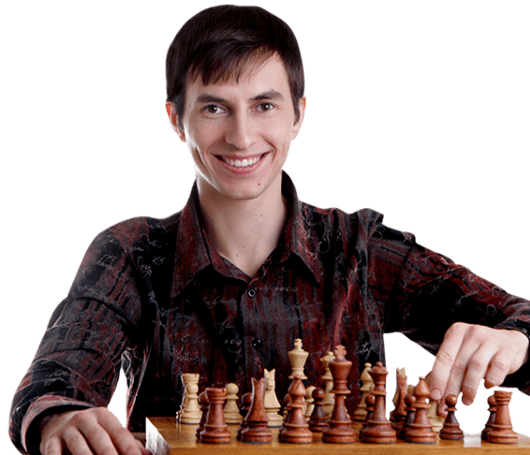 Chess Teacher GM Smirnov
"Would You like to improve your Chess Skills and start winning MORE Games?
Do You want to get the MAXIMUM Benefit from your Chess Training?"
Igor started to play chess, when he was 8 years old. When he was 13 years of age he achieved the title of International Master after winning in several international tournaments.
He trained hard for about 6-8 hours a day, had many coaches and read a lot of chess books, but he suddenly realized that a lot of new information didn't make his game stronger.
He wanted to know the answer to a simple question:
"How to make progress and start to play chess better?"
No one said to him: "I know exactly what to do and I can guarantee your progress".
Since that time, he started to think about the right way of training and improving himself. That's why he took an interest in psychology. After understanding some principles of the human's thinking process, he realized why the usual way of training is so ineffective.
Igor combined his chess experience and psychological knowledge and started to create his own system of chess education. After this his chess results became much better and his rating improved to 2505 and at the age of 20 Igor became an International Grandmaster.
His chess educational system has proven to be effective in practice and he was very happy that after a long time of hard work, everyday trainings and huge efforts, he realized the right way of training.
At that time he decided to share this important knowledge and skills with other people, who want to get better in chess. He believes that it will help other chess players to save the years, spending on futile efforts and enjoy fast progress.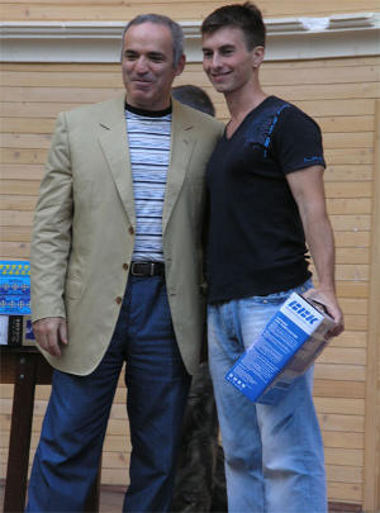 GM Garry Kasparov (former world chess champion) is presenting the 1st prize to Chess Teacher GM Igor Smirnov at the "Kasparov's Cup-2009".
Get and Study High Quality Chess Teaching Video Courses – Click here!
Read this overview below to get an idea about how these video courses are structured.
List of Chess Courses explained
Testimonials
I just want to let you know that I went to a park to play chess today, and over five hours I won 66% of my games using your thought process and opening rep. Never have I bought chess software or dvd's or books that have been even a quarter as to the point and helpful as yours. Thank you for helping me be a chess monster, even though I still have a long way to go!
Peter Augros
——————————————————–
Dear Grandmaster Smirnov
I feel compelled to write this email and thank you from the bottom of my heart for the three videos that you sent to me. Everything comes just at the right time and I am ready to grow with the information that you are giving to me.
I particularly enjoyed the lesson the most common mistakes chess players make. To take is a mistake. I have been making that mistake now for 28 years of playing chess! I learned the game way back in 1982.
You are truly a gifted chess teacher and know how to help a chess player. I would like to buy some of your materials but money is tight at the moment but I will make a plan sooner than later. I know I will benefit from your help.
Everything of the best
Yours sincerely
Loyd Wellen
——————————————————–
Hello mr. Smirnov
After only just reading your courses (I had no time to look at the drills) I participated in 2 tournaments and had an increase in Elo of about 35 points!
One of these tournaments was the Open Greek Championship which I won with 7/9 (in the island of Ikaria), that finished 2 days ago. I had done some other work the last months but 2-3 data from the courses helped me to win some crucial games!
So I strongly recommend them to any player who wants to play better games, have a better understanding of chess and get better results, Elo points and prizes!
Thanks a lot for your work!
Kostas Nikolaidis
——————————————————–
Thank u very much for ur tutorials sir. Im very grateful to u. Thanks a ton.
gu ba
——————————————————–
Dear GM!
Thank You very much for all informations, materials and advices. They are very interesting and important for me.
My best regards
Janusz Iwaszkiewicz
More Testimonials
Reviews about "The Grandmaster's Secrets"
Reviews about "The Grandmaster's Openings Laboratory"
Reviews about "How to beat Titled Chess Players"
Reviews about "Your Winning Plan"
more Reviews …
Most important Chess Courses explained

Get Chess Sets and Chess Computers!