If you like to enjoy chess even more, get a full tournament-sized Staunton Chess Set that has a 3.75″ King with a 1.75″diameter base to analyze your games at home. This is more enjoyable than playing chess using plastic chess pieces.
These chess pieces are named after Howard Staunton, a chess master (1810-1874) and made available by Jaques of London in 1849. They became the standard among chess players and have been used in chess clubs and chess tournaments around the world since.
Here at Chesshouse you can get these popular chess sets a bit cheaper, so I recommend to check this chess store out.
I believe every real chess player should have a decent wooden chess set at home where he can study and prepare useful chess variations to surprize his opponents. It is not so enjoyable when you move around plastic chess pieces.
Staunton Chess Set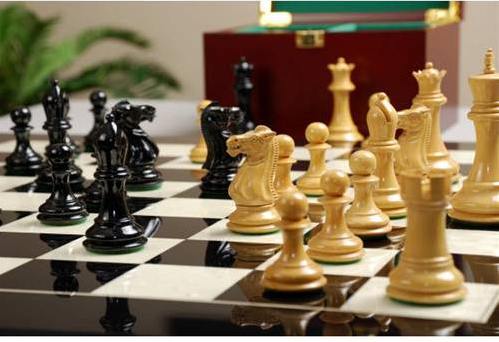 Get Your Staunton Chess Set – Click here!
These Chess pieces are hand carved by artisans and to use them will give you a much better feel for the game. The pieces are natural lacquered and the design of the Players Series Chess set originates from the late 1890s. At this time the finest Staunton Sets were produced.
So if you are interested in a quality chess set and board then this is ideal for you as it has a very affordable price.
It is beautiful and functional and withstands the rigors of practical play.
Reykjavik II Series Staunton Chess Set

Get Your Staunton Set – Click here!
The Reykjavik II Series chess set is beautiful amd practical. The chess pieces are hand carved and crafted out of ebonized boxwood and are heavily weighted with luxurious billiard cloth base pads and a rich finish.
Have Fun!
You get a HUGE Discount NOW on UNIQUE Chess Courses from Grandmaster Smirnov! Click here!

Get Chess Sets and Chess Computers!