This beautiful hand-painted Alice in Wonderland Chess Set has been one of the most popular Studio Anne Carlton chess sets for many years.
Children are sure to delight in the Alice in Wonderland chess set.
The chess pieces represent the characters in Lewis Carroll's famous Alice stories and are based on original illustrations of John Tenniel, the famous cartoonist.
This Chess Set achieves record sales world-wide and is made entirely by skilled craftsmen and artists.
Get Alice in Wonderland Chess Set – Click here!
Specifications:
King height: 3 1/2″
Recommended board size: 1 5/8″-2″
Note: Pieces only, board not included.
___________________________________________________________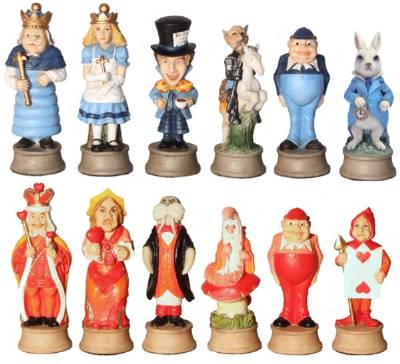 The Chess pieces above are based on the 1865 novel by Lewis Caroll. Alice falls into a rabbit hole into a fantasy world (Wonderland) where peculiar creatures roam. The fantasy tale plays with logic and literary nonsense, and continues to be popular with adults as well as children.
The set is made of solid poly-resin and each piece is hand-painted in detail with long-lasting, lead-free paint. If roughly handled by young children they may break, but are otherwise durable.
You'll save time, money, and hassle: Because this set is generously hand-inspected piece by piece and optimized packaging and shipping techniques nearly guarantees a delightful delivery. Before you purchase a theme chess set anywhere, make sure the company pre-inspects each pieces. Without this, up to 17% carry minor manufacture defects, breakages, or incomplete or incorrectly matched pieces.
Get Alice Chess Set – Click here!
You get a HUGE Discount NOW on UNIQUE Chess Courses from Grandmaster Smirnov! Click here!

Get Chess Sets and Chess Computers!