"Become a strong Chess Player as quickly and efficiently as possible!"
These COMPLETE Chess Courses make your chess training two or even three times more effective? Opening, middlegame, or endgame – whatever phase or aspect of the Royal Game you want to master, his high quality chess courses will give you that DRAMATIC boost you are looking for!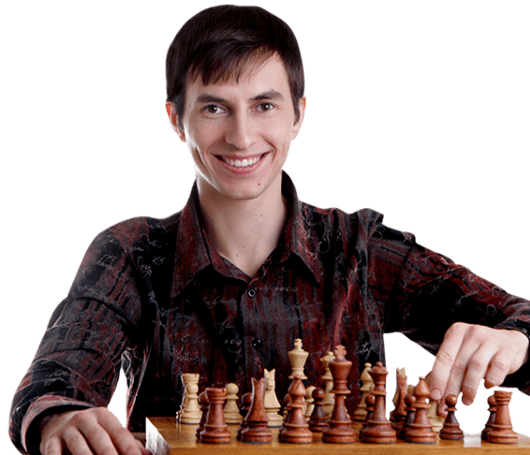 I am an International Grandmaster from Ukraine, currently rated 2507 FIDE.
I am also a Chess Coach and hold a Master's degree in Psychology.
We produce comprehensive courses. Believe me, this is not an easy task.
These UNIQUE Chess Courses of condensed Chess Knowledge will quickly turn a weak Player into an Expert!
Grandmaster Igor Smirnovs Chess Teaching Videos are organized like a Chess Academy and will teach you all you need to know in the shortest time possible. His team members work for several months on one chess course. For that reason, the chess courses are at a VERY high level.
Why are Igor's Chess Courses so effective?
1. These unique chess courses are very well prepared.
2. They have a theoretical part.
3. They have a practical part.
4. You get a Money-Back Guarantee.
5. They have a very good description page, so the audience knows exactly what they are buying.
6. You save thousands of dollars on chess lessons that you would pay to a private chess teacher.
7. EXCELLENT TESTIMONIALS
The following list of chess courses are the result of years of hard work. I recommend, that you get the packages below, because you get a discount this way.
Get the Packages and save!
I also recommend the new chess course
Unlocking Grandmaster Mind
I should mention that the quality of this course is very high, as with all other products.
If you are a beginner at chess, start with this chess course below!
Reviews about "The Grandmaster's Secrets"
Get It Now – Click here!
I suggest that you first study the courses GM's Secrets or Positional Understanding. It is better to have a solid knowledge of chess and, after that, study the opening courses.
…more Reviews about Grandmaster Igor Smirnovs Chess Courses.

Get Top Chess Sets and Computers!

Get High Quality Chess Courses created by Grandmaster Smirnov!
"Give me 21 Days and I'll Show You How to Become a Dramatically Better Chess Player...Guaranteed! - Click Here!"