Testimonials – Video Chess Course 'How to Beat Titled Players'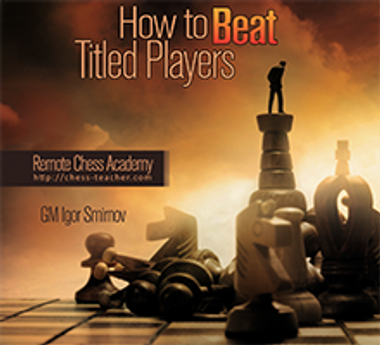 How to Beat Titled Players
"The impact on the quality of my play and tournament results has been immediate."
Kenneth Hills, USA
"Igor's course
'How to beat Titled Players' is packed with valuable practical advice. Just like his two previous works
'The Grandmaster's Secrets' and
'The Grandmaster's Openings Laboratory', Igor Smirnov has a way of explaining complex
ideas in an accessible way while introducing you to material that I have never seen elsewhere.
Let me emphasize the course is very much focused on practical aspects of improving your chess. I cannot rate this material highly enough and recommend it without reservation. The impact on the quality of my play and tournament results has been immediate.
This latest course helps you understand how to go about beating stronger players and not just in an abstract way but, assuming you are willing to work hard at the course work he gives you, in a manner that improves your playing strength."
Kenneth Hills, USA
_____________________________________________________________
"It contains a lot of unique ideas, which are not presented in chess books."
Sahapol Nakvanich, Thailand
Dear Sir,
After listening to your course on
"How to Beat Titled Players" I recommend to anyone who wants to improve and wants to beat titled player.
It contains a lot of unique ideas, which are not presented in chess books. The course helped me to look at the chess game from another angle. Now I know what is the best style of playing and how exactly I can win even against much stronger opponents.
I have purchased all your courses and I found them really useful!
Secretary Thailand Chess Association,
Sahapol Nakvanich (right)
_____________________________________________________________
"I have learned so much already from the first few modules…"
Leonard C., UAE
My teacher told me, that I am already the best player at my school!
I am 10 years old and live in Dubai (UAE), I am in the 5th grade.
I started to play chess a few years ago, my parent taught me the rules and some basic strategies.
Even though I knew the game, I did not have the right strategical understanding to beat stronger opponents…but after watching Igor Smirnovs GM Secrets (together with my Dad) I suddenly was able to beat all players of my school (even the teachers, which played for years) and I managed to win against my Dad (former club player !) several times!
Yesterday I received the new course "How to beat stronger Players" from Igor Smirnov and I already watched and studied a good bit of it.
Again, this course is *SUPER*! I have learned so much already from the first few modules and I am confident, that I will beat MUCH stronger opponents very soon (I plan to become a club player in the summer time…)!
Leonard C., UAE
All Chess Teaching Video Courses by Grandmaster Smirnov (UKR).

Get Chess Sets and Chess Computers!