Jose Raoul Capablanca was born 19. November 1888 in Havanna, Cuba. He was a chess prodigy, learned chess when he was 4 years old and played excellent games while he was still young.
When he was 12 years of age he played a match against the national champion of Cuba, Juan Corzo y Príncipe and won it 4/3 with 6 draws. Later on he studied chemistry and sports at the Columbia University in New York.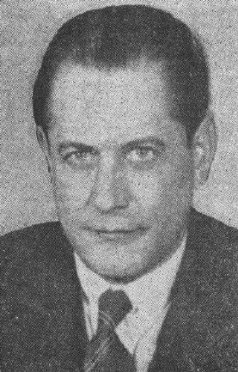 In 1909 he won a match against the leading american master Frank Marshall, 8 wins, 1 loss and 14 draws. In 1911 he became known worldwide when he won the tournament in San Sebastian in which famous chessmasters participated like Akiba Rubinstein, Milan Vidmar and Carl Schlechter. He worked as a diplomat for Cuba 1913 but had plenty of time to pursue his chess career as well.

This is the score sheet of Capablanca's defeat by Richard Réti in the New York 1924 chess tournament, his first loss in eight years
1913
Championship of New York City – first place.
International Tournament in Havanna he came second place.
Rice Memorial New York City – first place.
1914
In the famous tournament in St.Petersburg in May 1914, he came second place behind the world champion Emanuel Lasker.
1915
Championship of New York City – first place.
1916
Rice Memorial New York City – first place.
1918
Manhattan tournament New York City – first place.
1919
Match against Boris Kostić – "Capa" wins 5/0
International tournament in Hastings – first place
1921
Jose became world champion in beating Emanuel Lasker with 4 wins, 10 draws, no losses.
1922
International tournament in London – first place
1924
International tournament in New York City – second place
Other well-played tournaments followed.
1927
He lost his title in 1927 in Buenos Aires to Alexander Aljechin scoring 3 wins, 6 losses and 25 draws. There was no return match as Aljechin found reasons to avoid it.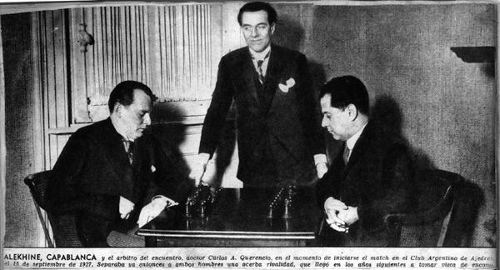 A.Aljechin-J.Capablanca (right) 1927
1936
"Capa" won strong tournaments in 1936 in Moskow and Nottingham.
He was often called "the chess machine", as he played very solid and precise and simplified the position when he had a slight edge. Especially in endgames his playing style appeared simple and strong and he hardly made any mistakes. His highest "historical rating" was 2877 ELO in May 1921 after he became worldchampion. Some say he was the strongest chess player ever…
Capablanca's Chess Games
Flip Board: Press F-Key (or click e7 or d2 on top) Select a game: Click on grey bar

Go from – Capablanca – to Chess Grandmasters
Go to – Chess Strategies – Home
You get a HUGE Discount on High Quality Chess Courses from Grandmaster Smirnov! Click Here!

Get Chess Sets and Chess Computers!