Looking for Fairy Chess Set? Yes, this is a great gift idea indeed!
3D Fairy Pewter Chess Set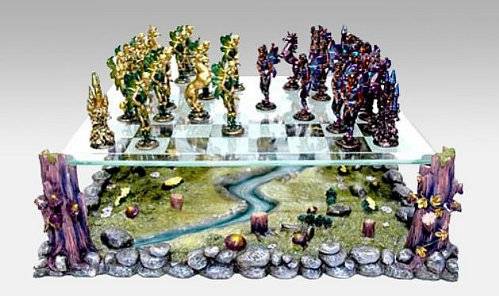 Description
This fairy-themed chess set features a full array of fairy characters, from the king of the fairies all the way down to the pawns. The premium pieces are pewter with a polyresin base, making them handsome and durable for years of use.
Measures 15W x 15D x 5H inches
Board itself measures 13.5 inches square
Includes a full set of pewter chessmen with resin base
King measures 2 inches in height, 1-inch base
Fairyland Chess Set Pieces
Have you ever tried checkmating a fairy? Now is your chance! These beautiful and elegant fairies, pixies, and other little folk face off in a eye-catching theme chess set!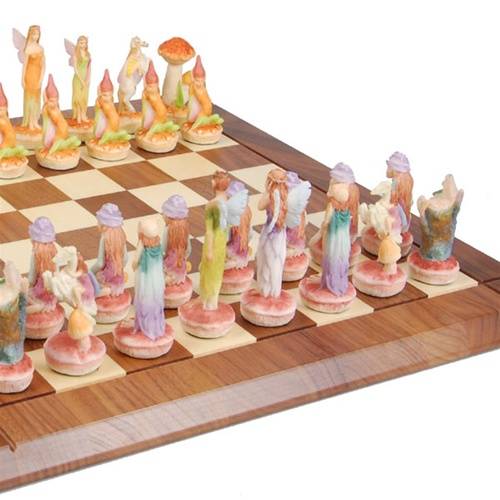 Enjoy elves, fairies and pixies dancing in this charming Fairyland theme chess set that has breath-takingly pretty colors.
Delightful figures of the forest tops and meadow lands are brought to life in this Fairyland chess set.
The delicate colors make this chess set a unique gift idea.
These sets are made of poly-resin plastic. Each piece is hand-painted using long lasting, lead-free paint.
Specifications:
These pieces are not recommended for children below 10 years of age since they will break if dropped or played with roughly.
Pieces: Hand-painted, plastic resin, and non-weighted.
King size: 3-1/4″ tall, 1-1/8″ bases.
Pieces only. Chessboard not included.
Set weighs 3 pounds.

Get Chess Sets and Chess Computers!