This masterpiece is a beautiful and large 925 sterling silver gold chess set handcrafted in 16 sterling silver and 16 gilded sterling silver (gold color) highly detailed and outstanding medical doctor theme chess set.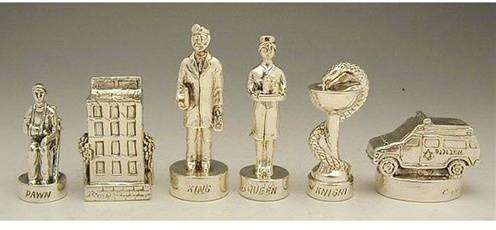 The kings are designed as doctors, the queens as nurses, the rooks as hospital buildings, the knights as the symbol of medicine, the bishops as ambulances and the pawns as patients.
The board is wood and set with a silvered and gilded metal playing board.
Specifications:
Board size: 19 3/4 in. by 19 3/4 in.
King size: 3.268in.
Pawn size: 2.205in.
Set weight: 109.473oz.
Marks: 925 for sterling silver
Made by Amnon Caspi, Israel, who designs and creates unique handmade items of electroformed sterling silver. At the age of six months he developed polio, which left his legs paralyzed. He is now able to walk with the aid of crutches. Together with his wife, he owns and runs a small workshop.
Caspi employs new immigrants from various countries, and also employs disabled people who were unable to find work in other places.
Get Great Theme Chess Sets – Click here!
_________________________________________________
This Chess Store has a very high selection of quality metal chess sets, because they offer a great line of Florentine metal chess sets.
Italfama (Calenzano Italy), produces metal chess sets in traditional Staunton and theme designs.
Manopoulos (in Athens Greece), produces a line of beautiful chess sets based on the Greek mythology and medieval age history.
You can have both just chess sets (pieces only) and chess sets with boards in a complete package.
FREE Shipping on orders of $75+ to U.S. 48 states | No Hassle Replacement Parts | Worldwide Shipping | EASY Returns up to 6 Months



Get great Metal Chess Sets here
Italy 3″ Metal Chess Pieces on Leather Chest
Produced by the family of Aldo Marsili in their inspiring family factory!
Enjoy this masterpiece, metal chessmen on the genuine leather chest.
Chess Storage Board with Metal Pieces Chess Set Combo
This is a wonderful metal set from Italy with brass and silver finishes.
15″ square storage board, a high gloss finish made of maple and walnut.
The inside is lined with velour and offers separate slots for each of your chess pieces. The bottom of the board is also lined with velour to avoid scratching your playing surface. The beautiful hardware is made of solid brass.

Get Chess Storage Board Set Combo
Produced by the family of Aldo Marsili near Italy's Florence. This family runs a wonderful factory, with a finely honed craft of manufacturing awe-inspiring chess sets for over 30 years. In your home, you can now own and enjoy one of their masterpieces, the Gothic Chess Pieces 3 inch solid cast metal chess pieces on the genuine leather chest.
The metal chessmen will not tarnish due to the protective coating and lay comfortably in felted slots inside the leather chest.
This is an amazing set for extra memorable games nights as a couple or with a best friend. And you'll know it comes from a lovely family in Italy who run a model enterprise. I can't stop looking at it. Simply incredible!
Staunton Metal Chess Men on Grey Alabaster Board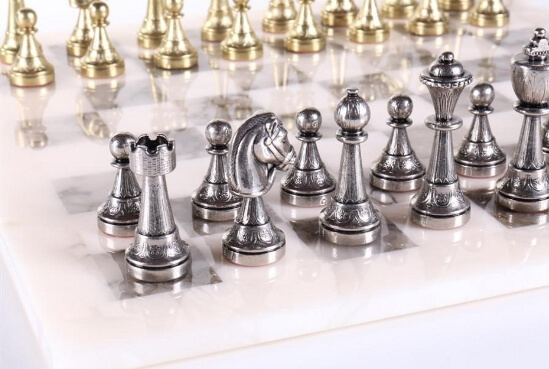 Get Staunton Metal Chess Set here
Black & White Wood And Metal Set
Elegant contrasting metal and wood chess set. Play chess with your friends at home and proudly display this great design. Get this beautiful chess board with beautiful pieces today! This is an amazing production from Italfama in Florence Italy!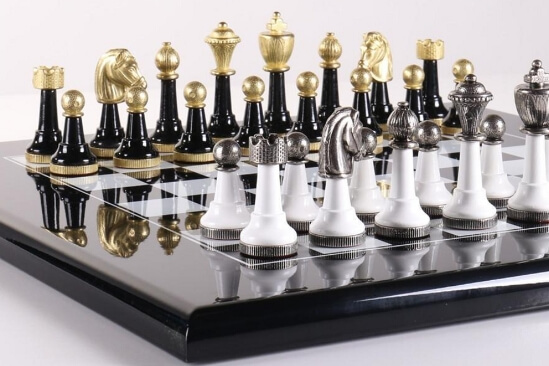 Get Wood and Metal Chess Set here
You get a HUGE Discount on High Quality Chess Courses from Grandmaster Smirnov! Click Here!

Get Chess Sets and Chess Computers!