Get a nice police chess set for somebody who is working for the police. This entertaining Cops and Robbers theme chess set will bring back your childhood dreams! The Law versus the Underworld, this 'Cops and Robbers' theme is fun for anyone and a nice gift idea.
The forces of the law wear trim black uniforms and the crooks appear in red/brown outfits.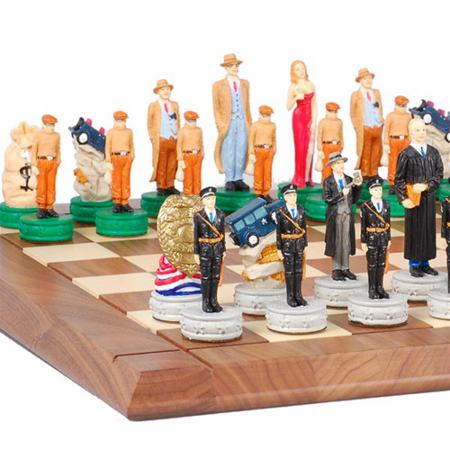 Get Your Chess Set – Click here
Police Chess Pieces
The police badge functions as the castles! There are 8 well-dressed policemen who take the place of the pawns. The Cop car is placed in the knight's position and the bishops are undercover policemen. The king is the chief and the queen is the local police inspector!
Robbers Chess Pieces
Large money bags dominate the corners. 8 toughs are standing in the front ranks, their slouch hats low on the head wearing rough brown sweaters. The get-away car takes the place of the horse.
The local crime kingpins represent the bishops, an 'Al Capone' rests as their king. The queen is a night-club entertainer.
The finely made chess sets are made of poly-resin plastic. Each piece is hand-painted using long lasting, lead-free paint. Pieces are not recommended for children below 10 years of age since they will break if dropped or played with roughly.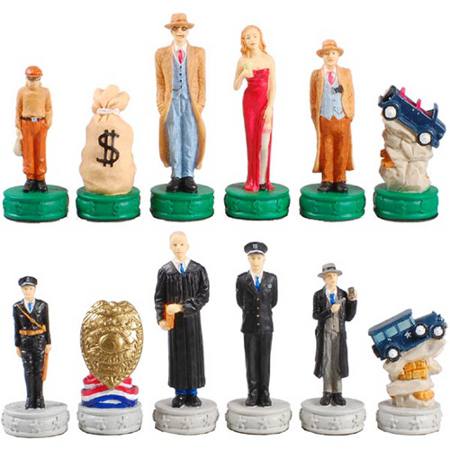 Specifications:
King size: 3-1/4″ tall, 1-1/8″ bases.
Pieces only. Chessboard not included.
Set weighs 3 pounds.
Get Your Police Chess Set – Click here
You get a HUGE Discount NOW on UNIQUE Chess Courses from Grandmaster Smirnov! Click here!

Get Chess Sets and Chess Computers!