The American War of Independence between the Kingdom of Great Britain and the new United States of America, France, Netherlands and Spain resulted in an American victory.
The two sides of the American Revolutionary war are shown in this chess set. 1760 at the time of King George III's coronation the North American sub-continent was dominated by the British.
Get Your Revolutionary War Chess Set – Click here!
The colonists of the territory didn't want to pay taxes to the British Crown and as a result outbreaks of violence occurred which eventually escalated into full scale war between the colonies and Britain. These chess pieces show a lot of detail and are hand painted.
Civil War Chess Set by Studio Anne Carlton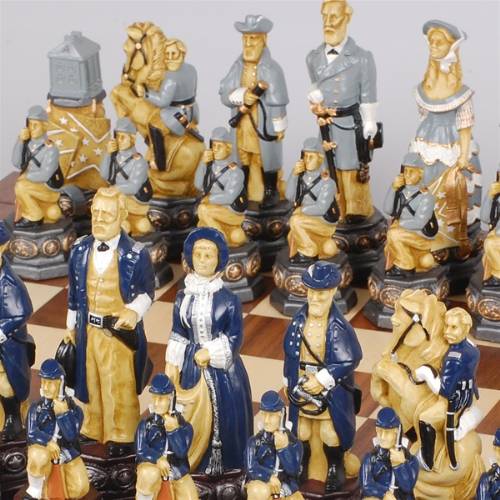 The conflict between the Confederate Army of the South led by General Robert E. Lee and the Federal Troops of the North led by General Ulysses S. Grant resulted in many battles and great loss of life.
This chess set shows the major players in this turbulent period of United States History.
Specifications:
King size: 5″
Pieces only. Chessboard not included.
Board recommendation: 2-2 1/2″ squares
Check out this chess store below to see more high quality chess sets…
Get Your Revolutionary War Chess Set – Click here!

Get Chess Sets and Chess Computers!