Rybka Chess is one of the strongest PC Chess Programs world-wide, designed by Vasik Rajlich IM, who was born 1971 in Cleveland Ohio, United States to Czech parents. He is married to Iweta Rajlich, a Polish woman chess grandmaster, who helps him testing his chess program.
Rybka is top-rated in the rating lists. It has won the 2007, 2008, and 2009 World Computer Chess Championships and supports both single processor and multiprocessing systems.
Rating lists measure the strength of various chess programs. To estimate the strength, multiple chess games are played between engines using standard hardware platforms.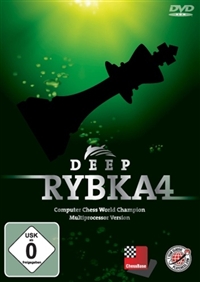 Deep Rybka 4 World Champion Chess Software
Current Computer Chess World Champion, estimated rating: 3150
Leads all independent computer chess rating lists
You can replay chess games from Rybka below.
Rybka Games
Flip Board: Press F-Key (or click e7 or d2 on top) Select a game: Click on grey bar

You get a HUGE Discount NOW on UNIQUE Chess Courses from Grandmaster Smirnov! Click here!

Get Chess Sets and Chess Computers!