Play chess with friends while travelling…
Real chess players always carry a chess set with them while travelling, or they feel like a fish without water. You will find various sets at the chess store below, just have a look around. Sometimes certain types of sets are not available anymore, but they get new ones all the time…
6″ Plastic Magnetic Travel Chess Set with Carrying Case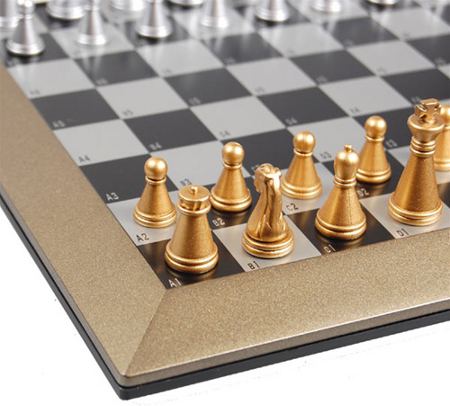 Shop chess sets
This unique chess set combines the beauty and elegance of a home decor set with the features of a traveling tournament set!
This chess board has algebraic notation in each square and plastic chess pieces weighing 2 pounds.
The kings look like they have been forged out of solid silver and brass. You get a nylon carrying case that measures 9 3/4″ x 8 ½" x 1″, featuring a full zipper pocket to store the board and one to store all the chess pieces.
The design, the quality and the price makes it absolutely the perfect set and gift for anyone who appreciates chess.
Shop chess sets
You get a HUGE Discount NOW on UNIQUE Chess Courses from Grandmaster Smirnov! Click here!

Get Chess Sets and Chess Computers!